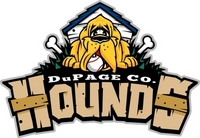 Aurora, Ill. – July 27, 2020 – DuPage County kept on rolling as they took care of the Northwest Indiana Oilmen, 17-9, at Aurora Catholic High School in Aurora, Illinois.
The Hounds improved to 14-5 with the victory as the Oilmen dropped to 13-7 on the season.
The Hounds offense exploded for 17 runs to go with 20 hits to take down the Oilmen. Seth Masters (Illinois-Springfield / Orland Park, Ill.) helped give the Hounds the win with an impressive performance on the mound as he went 4-5 with two doubles, a home run and 4 RBI.
"I'm just shortening up my swing and keeping it simple, just really trying to keep my eye on the ball," Masters said. "I've always been a two-way player, I was just an average hitter in high school. My college coach let me try hitting and I've improved ever since I started being a two-way player at the collegiate level."
DuPage County reliever JohnLuca Moschetto (Benedictine University-Mesa / LaGrange, Ill.) threw three shutout frames while only allowing two hits and recording four strikeouts. The Oilmen offense struggled against the Hounds' bullpen in the game as DuPage only allowed six hits after starter Malik Binns (Benedictine University-Mesa / Bolingbrook, Ill.) was removed from the game.
"Moschetto just throws strikes, he keeps hitters offspeed. He won't throw anything overpowering but he does enough to get the job done, time and time again." Hounds Manager Ben Caple said. "He throws three pitches for strikes and has been very effective with his changeup this season."
The Hounds offense exploded today, led by both Masters and Bryce Burton (Rock Valley CC / Sugar Grove, Ill.) as both players combined for two home-runs and 10 RBI. Jackson Dvorak (Missouri St. Louis / New Lenox, Ill.) finished the day going 2-4 with two singles, 3 runs scored and 2 RBI's to help seal the win for DuPage County.
"We finally made an adjustment and figured out Guzek, we started attacking his fastball early in the count," said Caple. "We had a very good two-strike approach and scored our first four runs with two outs and a handful of them with two strikes in the count."
DuPage County will be back in action Tuesday, July 28 as the Hounds take on the Crestwood Panthers at Andrean High School in Merrillville, Indiana starting at 5:00 P.M. on the Crestwood Panthers Broadcast Network, fans can watch the game via Facebook Live.