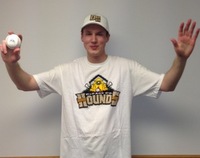 The DuPage County Hounds, DuPage County's baseball team, is announcing a special contest that allows a fan to win great merchandise and tickets for guessing which Cardinal will be selected by their peers to be the next Pope.
Fans who correctly select the next Pope, chosen by the College of Cardinals, will have the opportunity to win a white DuPage County Hounds logo t-shirt, a white DuPage County Hounds secondary logo hat, a white baseball, and the opportunity to throw out the first pitch to a game of his or her choosing, as well as two complimentary tickets to that game located in the front row behind home plate. All fans who submit the correct Cardinal of the 115 eligible Cardinals will be entered into a drawing with one winner selected.
Fans can submit their guess by emailing it to:
[email protected]
The deadline for your submissions will be determined by when the College of Cardinals make their selection. As soon as white smoke is seen through the chimney (signaling a new Pope has been selected) submissions will no longer be accepted.
The DuPage County Hounds are a summer collegiate wood bat baseball team that is part of the Midwest College League. Also known as the "Hounds", the team plays at the 1,100 seat baseball stadium at the Village of Lisle-Benedictine University Sports Complex. The 2013 season starts on Friday, May 31 at 7:00pm. Tickets can be purchased by calling the team's front office at
(815) 704-3839
or by visiting the team's website at
www.DuPageHounds.com