Coaches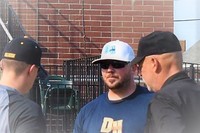 Ben Caple
Head Coach
Phone:
(858) 342-9487
E-mail:
Ben Caple is entering his 4th season as Head Coach for the Hounds after serving the previous 4 seasons as Associate Head Coach. Caple was the Midwest Collegiate League Manager of the Year in 2018 and has won the outright regular season title every year since replacing the 2015 Midwest Collegiate League Manager of the Year, Sean Osborne. Osborne is still involved with the DuPage Hounds organization as he is just moving into the front office full-time to take on business related activities & running the youth organization know as the "643 Hounds" which is umbrellaed under DuPage County Hounds. Under the guidance of Caple & Osborne, the Hounds have compiled a handful of Midwest Collegiate League records over the last few seasons, including MCL's best win percentage as well as shattering the stolen bases record. As the Hounds enter their 8th season as an organization, more & more Hounds players are continuing their success into the professional ranks thanks to the help of Caple's blue collar, So-Cal approach.
Caple received his Master's in Leadership Studies from North Central College in Naperville, IL in spring 2014. He currently resides in Tinley Park, IL where he is an independent baseball instructor, coach, and consultant for individuals & organizations across Chicago-land for the past 10 years. Caple previously served as the infield/hitting coach at Benedictine University in Lisle, IL. His passion for coaching has stemmed from his former legendary coaches & mentors growing up.
Caple grew up in San Diego where he was a 3-year letter winner at one of the nations most dominant programs, Rancho Bernardo High School. He was 1st team C.I.F. in Southern California his senior year as the Broncos finished with a top-five national ranking by Baseball America. Caple went on to play one year at Palomar CC in San Marcos, CA where was named 1st-team All Pacific Coast Conference his freshman year. The following fall, he was selected to play in the California Junior College All-Star game. Caple used a medical redshirt his sophomore year after tearing his hamstring early on in the spring, but still went on to play three seasons at Indiana State University under Head Coach, Lindsay Meggs.